10 Best Android Emulators for Low End (1GB/2GB RAM) PC Without Graphics Card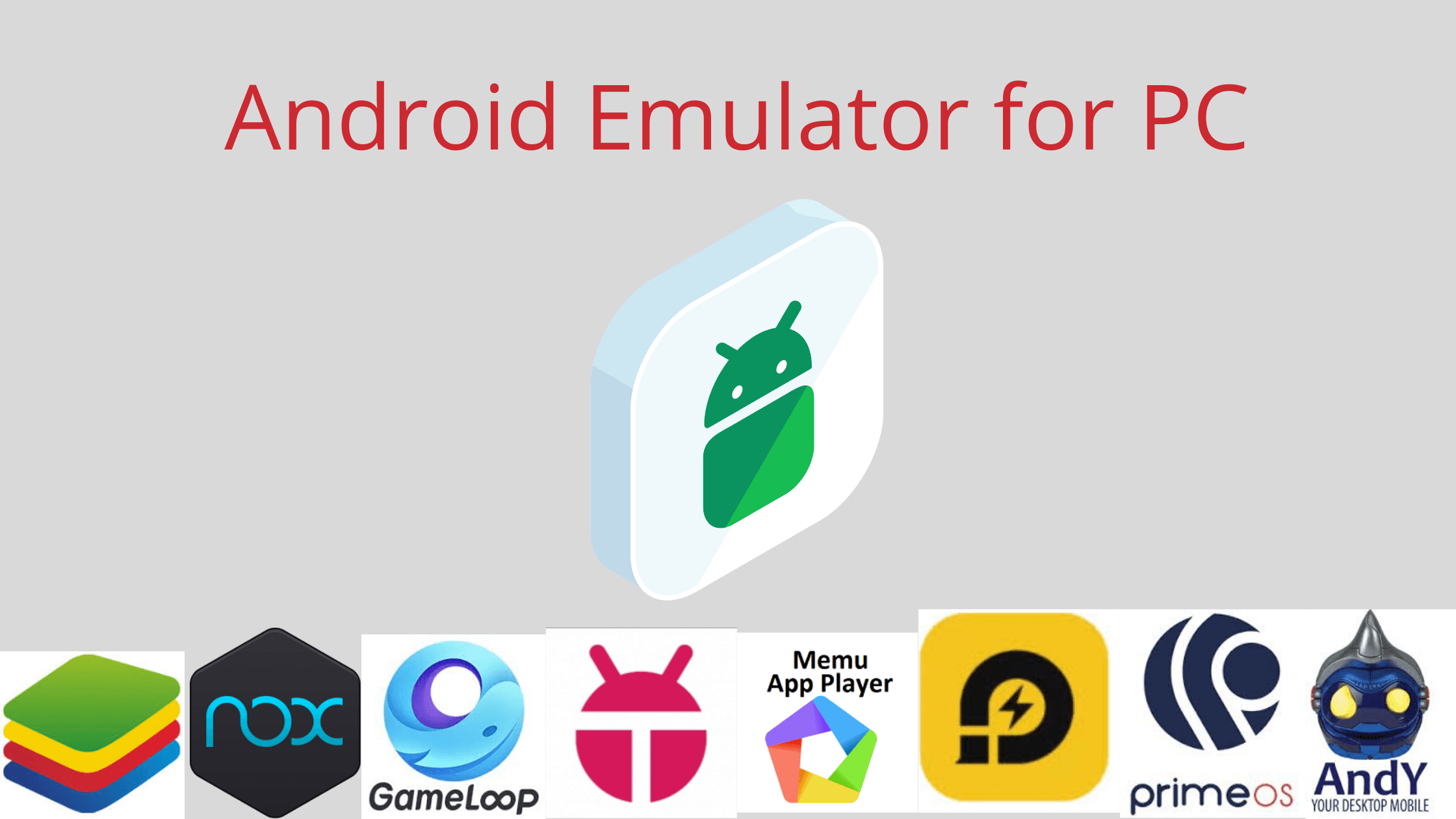 Looking for the best android emulator for your low end PC without graphics card? Want to play top rated games such as PubG, Free Fire on your laptop or desktop with RAM specs ranging between 512MB, 1GB, 2GB? It is a necessary query because we all know the best android emulators will require good specs without hassle
Those unfortunate to have Windows 11 on their PC to easily run android games and apps in the subsystem will definitely need an android emulator be it on a high end or low end PC.
Android emulators let us easily run android apps on our PC. Emulators are widely used by gamers around the world as it lets them play android games that have not been made available for PC.
Most emulators require good PC spec going from RAM, processor speed, and even graphics card. However, the good news is, there are many of these emulators that can run on low end PC without graphics card out there.
That said, in this article, we have compiled the best android emulator for low end PC (32 bit) that you can download and run your favorite apps and games such as PubG, Free Fire on your PC of 512MB, GB or 2GB RAM without graphics card.
What is an Android Emulator?
An emulator is a piece of hardware or software that allows one computer system (referred to as the host) to act like another computer system (called the guest). In most cases, an emulator allows the host system to run software or utilize external devices intended for the guest system. The ability of a computer program in an electronic device to simulate (or imitate) another program or device is referred to as emulation.
An Android Emulator simulates Android apps on your PC, allowing you to test your application or game on a variety of devices and API levels without having to use an android smartphone. The emulator has pre-configured settings for a variety of Android phones, tablets, Wear OS, and Android TV devices.
Now you have the basis of these emulators, let's see some of the best android emulator for low-end PC without graphics card.
1. Andy
Andy is without doubt one of the best lightweight android emulator for low end PC (1GB/2GB RAM) without graphics card. This emulator has a basic layout and is easy to use for every user with a basic or advanced understanding of android emulators.
The good thing with this emulator is, it doesn't require a graphics card to run properly. Additionally, it works pretty well on PC that have 1GB or 2GB RAM even on PC with 32 bit processors without hassle.
However, it will run smoothly on a PC with good specs. The emulator is the best among those you could find out there for low-end as it was launched in the early days of android emulators.
Andy is very popular among emulator for mobile gamers, especially those who play the famous Clash of Clans. Yes, the iconic mobile game that we used to play for hours at a time when we were in school.
So many use individuals use this emulator, which has been on the market for quite some time. It has numerous characteristics that allow it to be compared to smartphone functions.
Features of Andy
Mobile Remote — Similar to mirroring, you may use your smartphone as a remote in games. We haven't had a chance to test this feature yet, so we can't comment on any input delays it may have due to the fact that it isn't an official emulator for any of the games.
Controller Support — When playing games in the emulator, you can use any controller, whether it's an Xbox or a PlayStation.
Latest Android Version — To make your work even easier, the emulator features the most recent Android version. All app upgrades and features are supported without any issues in the most recent Android version.
Developer Support — This is a paid option that allows you to acquire help for specific programs by paying a set fee and receiving the emulator's support.
2. Leapdroid
Leapdroid is a new and lightest weight Android emulators for low end pc available in the market. The best thing about Leapdroid is that it doesn't require any prior experience with emulators. It's simple to use and allows for a variety of modifications and enhancements.
All you have to do now is install it on your computer and start using the programs you want. Another benefit of using Leapdroid is that it allows you to play two games at the same time.
The emulator can run most graphically demanding games on your PC without putting too much strain on it. The games' processing speed compensates for the lack of additional features.
Leapdroid was created exclusively for gaming, allowing players to play the most popular titles without experiencing any lag. While this may not be entirely accurate, we can obtain a reasonable level of smoothness in low-end devices when playing demanding games.
We don't know about the app's developer support, but it wouldn't hurt to give it a shot
.3. AMIDuOS
Released in 2016 and AMIDuOS contains a number of useful features when compared to other popular emulators on the market. Although the official website is no longer available, it can still be downloaded from some of the most prominent online uploaders.
This emulator cost $15 when it first came out. Users can use the sample for a month and then purchase the software to continue using it.
AMIDuOS is an extremely lightweight android emulator that supports a wide range of functions and even captures some from the PC itself.
The emulator will use features like your device's sensors to demonstrate your overall gaming experience. To ensure that you have no difficulties while gaming, the emulator has 3D Acceleration activated.
Many games require some permissions from your android device, which is why the emulator also supports your device's camera and microphone. It operates like a tablet for you, with touch and gesture functionality, and supports all of the Android apps that you can use.
The emulator also includes file transfer between Windows and Android, as well as a virtual SD card for device storage that can be customized to your liking.
We don't know if the developers are still offering assistance for customers because the official website no longer exists.
AMIDuOS has support for both 32-bit and 64-bit Windows and is available in two Android operating systems which are; Jellybean and Lollipop.
All of this levels this emulator as one of the best android emulators for low end PC of 1GB and 2GB RAM for 32 bit PC.
4. GenyMotion
GenyMotion is one of the best available, and premium plans provide premium developer assistance. You can use their desktop version to run simple Android emulators, but you can also use other services like custom Android emulators to test your apps on a GenyMotion customer server.
Virtual machines on AWS, GCP, Azure, and Alibaba are another service they offer. All of them are fee-based; costs can be found at the link below.
There are three license types for the desktop version. The first is available for free to students who require a virtual machine for testing purposes.
The other two plans are paid, with the developer support being the most significant distinction. You won't have any support with the free version of the emulator.
This emulator is the best lightweight android emulator for app developers — they can easily test apps and games on a variety of devices without physically owning them.
Depending on your needs, you can configure the emulator to work with different versions of Android — For instance, You can run Android 4.4 Jellybean on a Nexus One or Android 6.0 Marshmallow on a Nexus 6.
Features of GenyMotion
Cross-Platform Support — The emulator is compatible with a variety of operating systems, including Android, Mac, and Ubuntu. You have the option of testing your app as a user of any OS.
Hardware support — The emulator allows users to access all of their PC's hardware, including all sensors and touch controls.
IMEI Tracking — You can track your IMEI in the emulator because you may change it instantaneously without having to reboot your smartphone. GApps and other features are also available in the emulator.
5. Droid4X
Another free low-end emulator that can run all of your applications and games like Clash of Clans, Subway Surfers, and many others is Droid4x. We don't know about graphically intensive games like PUBG Mobile, which may or may not work on the emulator.
The emulator has a simple user interface and runs on Android 4.1.1, which may be an obsolete version for most users. However, this makes it the best lightweight android emulator for low end pc without graphics cards. Droid4X works pretty well on 32-bit and 64-bit PCs.
Droid4x is not ideal for application developers because there are only a few platforms on which you can test your app.
One of Droid4x's most intriguing features is its support for add-ons, which allows the users to control games on a pc using their smartphone. In Asphalt 9: Legends, for instance, you can use the accelerometer to transform your smartphone into a controller.
You can even use your keyboard as a controller, making it much easier to play Android games.
Features of Droid4X
Supports Screen Record — Users can use Screen Record to record their emulator games or any other work they're doing, and they can choose the quality of the recording. A Droid4X watermark will appear on all recorded videos.
Multi-Platform Support — Droid4X is a multi-platform application that works on both Windows and Mac computers. There hasn't been a Linux release yet, and we haven't heard anything about it.
Supports APK Installation — You can download APK files to your computer and then install them in the emulator to use them on your system. It may be accessed with a single click in the emulator's settings.
6. Nox Player
Nox Player is one of the well-known android emulators in the market and went viral when Pokemon GO was released as it was the best emulator for this game. Nox Player has good spoofing options, and you may move your player anywhere in the world using your keyboard.
The emulator now contains a multitude of features that have been improved since its initial release. The emulator has become more sophisticated than it was previously.
Playing low-end games on a PC with 1GB or 2GB RAM may not be a problem, but high-end games will not be played at their best. You can play 2D non-FPS games without any problems, and you can take advantage of some of the emulator's better features.
Nox Player reveals to be the best lightweight android emulators for all gamers out there as it lets you play android games such as PubG Mobile, Free Fire, Fortnite, Call of Duty (COD) and many more FPS games on your low end PC.
Nox Player lets you set up the emulator based on your PC's performance. You can setup this emulator on Low performance for 1 Core CPU with 1GB Memory or RAM, Middle Performance for 1 Core CPU with 2GB RAM, High Performance for 1 Core CPU with 3GB RAM or setup the performance with your custom preferences.
Features of Nox Player
Great Support for Android — As a premium brand in the market, Nox comes with Android 7.1, which can handle demanding games. The emulator is also tuned to ensure that the games run smoothly without putting undue strain on your computer.
Keyboard Mapping ― With a single click, you can configure all of your mouse and keyboard settings, and the game's response time is extremely accurate. When it comes to FPS games like PUBG Mobile and COD, you can rest confident that the emulator has a very fast response time.
Recording Scripts — MEmu can record what you're doing and afterwards script it to automate the task if necessary.
7. MEmu
MEmu is another great lightweight android emulator for low end PC out there. This emulator offers one of the most user-friendly interfaces available.
MEmu makes use of DirectX 3D and OpenGL to give you the most interactive gaming experience available.. You have complete control over your games that require high-resolution graphics, such as PUBG Mobile, Free Fire, Fortnite, Call of Duty etc.
You have a wide selection of games to choose from. MEmu supports a wide selection of games, from high-end to low-end.
Another benefit over other emulators is that it supports Android 7.1 Nougat and is 64-bit compatible. MEmu's most recent version is 7.2.2, which was released in July of 2020. MEmu's developer support is also good, and they can help you out anytime you need them.
This emulator is compatible with Intel and AMD processors, making it another ideal choice for games with low, medium or high end PCs out there.
MEmu also includes root access as well as a full sidebar display with a variety of additional functionality and features. MEmu has swiftly risen to the top of the Android emulator rankings for both productivity and gaming.
8. LDPlayer
If you're looking for an Android gaming emulator, LDPlayer is one of the greatest options you should go in for. This emulator is well-known for its Android gaming abilities.
One of the obvious advantages of the LDPlayer is its speed and stability, among other emulators. LDPlayer also has multitasking features. Within the emulator, you can open many windows in the same game.
LDPlayer is a safe Android emulator for Windows that doesn't have a lot of advertising. There is no spyware in it. LDPlayer has comparable performance to other emulators and is fast enough to run Android games on a low-end computer. Though it will work well on low end PC without graphics card, LDPlayer will perform best in the presence of a graphics card.
LDPlayer is one of the most expensive emulators available. Premium does not imply that it is paid, but it does imply that it is powerful. In terms of the UI and performance while surfing or gaming, it stands out among the low-end emulators choice for your PC. The emulator is primarily designed for gaming, as evidenced by the specifications.
LDPlayer offers two android versions; — Android 4.1 and Android 7.1.
Features of LDPlayer
Game Optimization — All games are optimized for a fast and lag-free gameplay experience, whether they are high-end or low-end. While low-end PC users may experience some difficulty while browsing, the powerful emulator can nevertheless produce good results.
Multi-Window Support — You can run multiple applications simultaneously. You can simultaneously play two games and use two social networking programs. This will allow you to get the most work done in the least period of time while playing various games.
Automation — Games that demand the same operations to be repeated can be set up automatically using the emulator's given script. This simplifies things for you because the script does the majority of the work in the game.
9. GameLoop (Tencent Gaming Buddy)
Because it is dedicated to PUBG Mobile, which may or may not operate in 1GB RAM computers depending on your CPU, GameLoop is the best android emulator for FPS games such as Free Fire, Call of Duty etc.
GameLoop also known as TGB was designed specifically PUBG Mobile, which is a popular game designed for Android, the graphics on PC are quite demanding. Without modifications, the emulator will not work on low-end desktops. The game will still lag on your system even after the adjustments.
Low-end PC with considerable graphics may be able to use GameLoop with some games but those low-end PC without graphics card may not be able to run GameLoop.
Based on the success of this emulator, Tencent added other games to the platform, allowing users to play more Android games. With the addition of new games, the firm evolved, and the emulator was renamed Gameloop from Tencent Gaming Buddy.
The emulator's response time is its most prominent feature. Response speed is crucial in FPS games like PUBG Mobile if you want to stay ahead of your opponents. This ensures that you are a game winner with no lags in response time from the mouse or keyboard.
10. BlueStacks — For Low End PC with at least 2GB RAM With or Without Graphics Card
BlueStacks was the first emulator to be released, and it received thousands of downloads in its first days. BlueStacks gave birth to the idea of emulators, which went on to become a great hit on the market. It is one of the more demanding emulators, requiring high-quality graphics to run.
This is probably not a viable option for low-end PC, but it can still be useful for folks who don't have a high-end smartphone for other uses.
The games are nicely tuned for average computers, and you can play graphics demanding games without lag, as it is one of the most rigorous emulators. The emulator has a range of features, such as Moba Mode and other options.
BlueStacks offer two versions — BlueStacks 4 and BlueStacks 5 which is its latest release and can be downloaded directly from the official website.
Features of BlueStacks
Live Translation — Due to the lack of a native language, games from other countries can be overwhelming. The emulator offers live translation support, which creates an overlay over the emulator to assist you comprehend any app or game while it's running.
Script — To make your task easier, you can write a script to run different items in the game in several instances. The sync is available in Real-Time, so you don't have to perform the same steps over and over.
Farm Mode — Enabling this mode reduces the amount of CPU used by the games and emulator, allowing your system to run more smoothly while gaming. Farm Mode will also cause a noticeable decrease in game performance.
Final Thoughts on Best Android Emulators for Low End PC (1GB/2GB RAM) PC Without Graphics Card
Android emulators are those software that keep us connected to the Android world from our PC. Seeing the increasing use of Android system and devices, Microsoft launched Windows 11 with an Android subsystem so that Windows users can directly access android apps and games without needing an emulator.
But due to lack of compatibility for most PC to support Windows 11, Android emulators remains the best options for gamers to play highly consuming games on their PC.
If you want to start a gaming career with your low-end PC, do not worry because there are emulators out there for your PC which have been listed on this list. Most emulators such as Andryoid, Leapdroid have been designed for low end PC without graphics card and will work seamlessly on 32-bit or 64-bit PC with 1GB, 2GB, 3GB RAM and more.
Other emulators on the list are ideal for low end PC, why don't you give them a shot and comment your results below? Those were our count up of the best android emulators for low end PC, for more gaming guides and assistance, consider joining us on Telegram and Facebook to get updated whenever we release a new article.