How To Transfer Money From Trust Wallet To Bank Account


What is Trust Wallet?
Trust Wallet is a digital currency wallet that allows users to store, send, and receive digital currencies. It was acquired by Binance in 2017, one of the largest cryptocurrency exchanges in the world. Trust Wallet supports the most popular cryptocurrencies and includes features for swapping, earning and buying crypto with 3rd party providers.
The Trust Wallet is available for Android and iOS devices and offers several security features, such as 2-factor authentication and biometric login.
How to Transfer BNB from Trust Wallet to Binance
Launch Binance Application
In case you have not installed the Binance application, you can download it here: Android and iOS.
After the installation, get logged in by filling in your credentials.
Tap the Wallet Icon.
Then, you will be able to see your assets.
See Also; How To Withdraw Money From ATM Without PIN Code [Complete Guide]
Select BNB and Copy the Deposit Address
Navigate to BNB and tap on it.
Now, you will be able to see two options: Deposit and Withdrawal.
Tap Deposit.
Now, Binance will ask you to choose the network.
In our case, we are going to send Smart Chain BNB, so we will be selecting BNB Smart Chain (BEP20) Network.
Now, you could see the BNB deposit address along with the QR code.
Click the copy icon or you can scan the QR code.
Launch the Trust Wallet application.
You will be able to view your crypto assets under Tokens.
Select Smart Chain BNB.
Then, tap Send.
See Also; How To Turn 100$ Into 200$, 500$, 1000$ [In a Day, Week, Month or Year]
Paste the Address and Enter the amount of BNB
After tapping on Send, you will be able to paste the BNB address that you have copied in Step 2.
Next, enter the BNB amount.
You can make use of the MAX button to send all the BNB that you are having in your Trust Wallet.
Lastly, tap Continue.
After tapping Continue, you will be on the Transfer page.
Review the transfer details and fee.
Then, tap Confirm.
See Also; Best International Money Transfer Apps
Now, head back to your Binance account and tap on BNB.
There you can see the recent transactions.
You can also check the recent transactions on Trust Wallet by tapping on the BNB.
How to withdraw money from Trust Wallet to bank account
To withdraw money from Trust Wallet to your bank account, you need to swap the token for BNB or Ethereum first.
Then, send the BNB or Ethereum to a popular exchange like Binance.
Binance supports more than 60 fiat currencies which makes it the prime exchange to cash out your cryptocurrencies.
After you've sent them to Binance, you can sell them for fiat currencies such as USD, AUD, GBP, and more.
Lastly, you can withdraw the fiat currency to your bank account.
You can do this by going to the withdrawal page and selecting the payment method.
Then, enter the amount of money that you want to send to your bank account.
The withdrawal process usually takes about 30 to 60 minutes to complete.
See Also; How to Transfer Money From Western Union To Cash App
How to Withdraw from Exchange to Bank Account
Once you have withdrawn your crypto or stablecoins to a centralised exchange (with FIAT markets available), you can then can cash out of your crypto.
The below example is using the Binance Exchange web platform. However, you can do the exact same process using the mobile app if you'd prefer. Alternatively, the process using other centralized exchanges will be very similar.
With Binance, if you've already converted to BUSD and you are in the US or Canada, you can withdraw your BUSD directly back to a bank account, as they will convert these tokens into USD during the withdrawal process.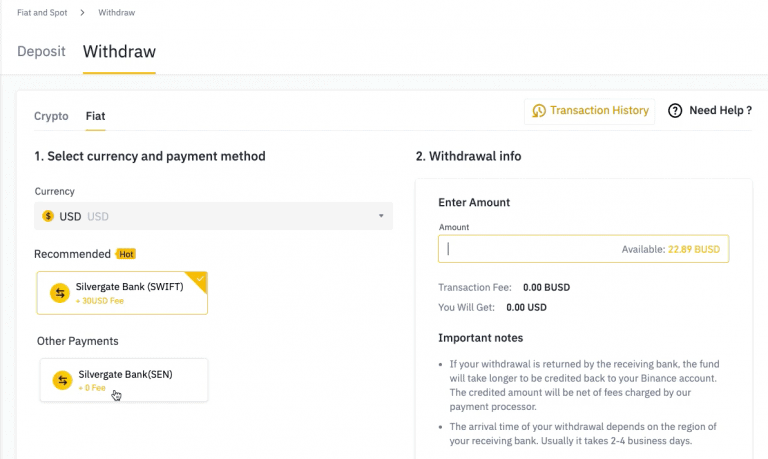 If, like me, you're in the UK or Europe, you'll need to swap your tokens for FIAT currency (like GBP/EUR) first.
Select "Markets" at the top of the screen.

Find the pairing for your token and the FIAT currency you'd like to withdraw (i.e. GBP or EUR).
Click "Trade" beside your pairing.

From the Trade screen, scroll down and select your order type under the "Buy/Sell" tab (depending on if you are buying or selling) If you have chosen a limit order, you will be prompted to enter a "Price".

Enter the "Amount" you would like to swap, or you can use the slider to select a percentage of your balance.

Click "Buy/Sell" when your order is complete, and you have sold your crypto for FIAT currency.

Go to your "Wallet" at the top of the screen, and select "FIAT and Spot".

Locate your FIAT currency and choose to "Withdraw".

Select your withdrawal method.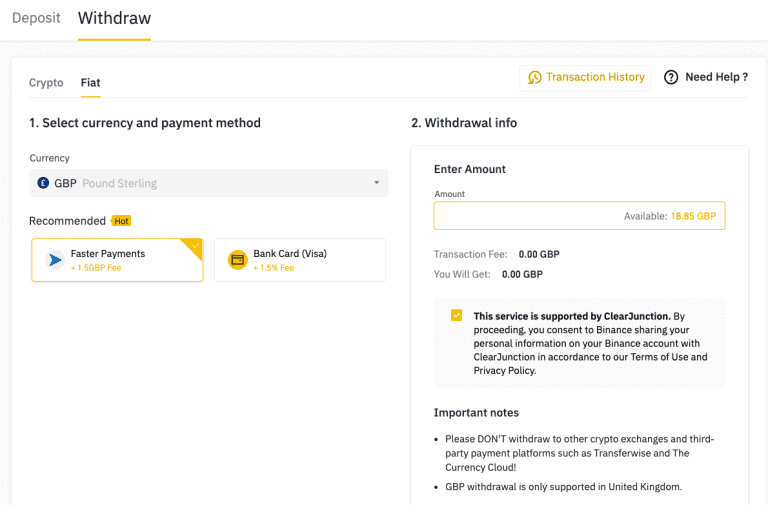 Enter the amount you would like to withdraw and follow the instructions on the screen according to the chosen method. Once complete, you have cashed out from your crypto!